Overview
Volunteering isn't just good for our health – it is essential for the health of our economy too.
Volunteering makes a $58.1 billion contribution to Victoria's economy.
There were 2.3 million Victorian volunteers in 2019.
There is a $3.70 return on every $1 invested in volunteering.
It costs Victorians $1,700 per year to volunteer.
We demonstrated this in our research – the State of Volunteering in Victoria Report (2020).
State of Volunteering Report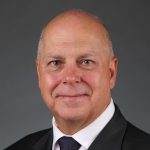 Mr Tim Pallas
Treasurer
Minister for Economic Development
Minister for Industrial Relations
What are we doing now?
We have requested a meeting with the Victorian Treasurer, Tim Pallas.
In this meeting we hope to brief the Treasurer on the significant contribution that volunteering makes to the Victorian economy.
In this meeting we will advocate for:
A commitment to fully fund the Victorian Volunteering Strategy, noting the significant contribution that volunteering makes to our economy.
Funding to support and prioritise volunteering in the upcoming 2021/22 Victorian Budget.
Resourcing for the volunteering sector to Victoria to recover from the social and economic impacts of COVID-19.
What's next?
We will update you about the outcome of our meeting request.
Meeting request
January 2021
Meeting
February – March 2021
Meeting outcome
March 2021