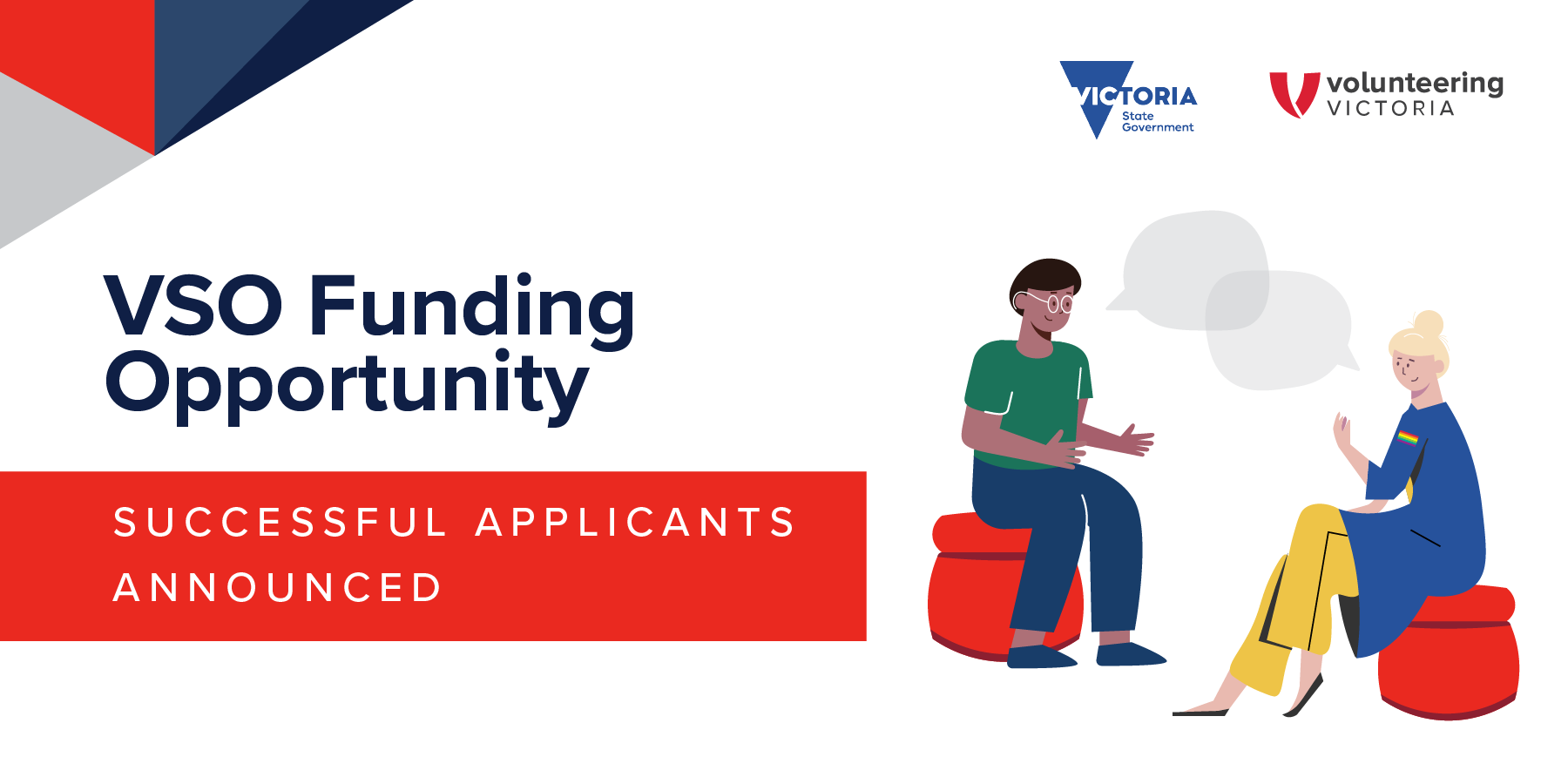 Volunteering Victoria is delighted to announce the following 13 VSO applicants who were successful in obtaining State funding to deliver programs which support volunteer engagement through COVID.
Volunteering Geelong

Volunteering Geelong will engage with local volunteers and volunteer involving organisations to support COVID safe volunteering. This will include facilitating the distribution of hygiene essentials and relevant information as well as identifying and managing related issues and needs as they arise to support continued volunteer engagement and community connection through COVID.

Centre for Participation

The Centre for Participation will co-design and develop a 'Culturally Inclusive Volunteering' framework and resources with the Horsham municipality members of the Wimmera Volunteer Managers Network. This will support local engagement of migrants, asylum seekers and refugees (new arrivals) living in Horsham Rural City to volunteer through COVID.

Bendigo Volunteer Resource Centre (BVRC)

BVRC will support local volunteer managers through their VIOs by providing a range of resources, training and support to enable community resilience, connections and recovery across Central Victoria during COVID-19. This will include the establishment of Volunteer Leadership Forums, mental health and wellbeing support, online community of practice meetings, as well as the development of digital literacy and COVID safe training programs for volunteers.

Ballarat Foundation

Ballarat Foundation will develop and implement a volunteer re-engagement program which will include providing volunteers with knowledge and skills on volunteering rights, responsibilities and COVID safe practices. The program will also seek to improve community awareness of volunteering and enable volunteers who complete the training to be 'induction ready', thereby supporting efficient and streamlined engagement of volunteers by local VIOs through COVID.

The Centre for Continuing Education Inc.

The Centre will work with local organisations and sporting clubs to re-engage with their volunteers. There will be a strong focus on supporting small rural communities who have experienced social isolation as a result of the combined impact of bushfires and COVID. Digital literacy training which builds upon The Centre's 2019 Volunteering Digital Literacy project will be tailored to upskill volunteer leaders and coordinators to work remotely with volunteers in order to support engagement, retention and attraction of new volunteers through COVID.

Whittlesea Community Connections

Whittlesea Community Connections will provide training, information and support to local VIOs and their volunteer managers to upskill them in COVID safe practices; support better mental health during recovery; and enable the development of volunteer roles through COVID. These roles will focus on engaging potential volunteers most impacted by COVID including within CALD communities, as well as people with disabilities and young people.

Albury Wodonga Volunteer Resource Bureau

Albury Wodonga VRB in partnership with local volunteer centres, will provide information, support and translation services to support COVID safe volunteering within their local communities. Their existing Way2Go training package will also be provided to 60 volunteer managers across the state with the support of a disability expert. Their focus will be on supporting CALD communities and people with disability to engage with volunteering through COVID.

Volunteer West

Volunteer West will provide training and support to local VIOs and their volunteer managers to assist with the re-engagement of volunteer programs, develop new roles and/or adapt existing roles to support the placement of volunteers through weVolunteer. This will also include a focus on supporting the mental health and wellbeing needs of existing volunteers. A COVID adapted package of Albury Wodonga's Way2Go training will be provided, along with ongoing support to VIOs in relation to volunteer management, COVID safe practices and connection with other organisations.

Southeast Volunteers

South East Volunteers will co-design a range of webinars together with VIOs and their volunteers highlighting the loss experienced during COVID, recognising the contributions made by volunteers, and providing resources to support self-care through COVID. Talking events and weekly meetings will also be established to enable VIOs and volunteers to work through issues and challenges. South East Volunteers will also work with their local communities to facilitate resource sharing in support of a COVID safe return to volunteering.

Volunteer Connect

Volunteer Connect will develop a targeted volunteer recruitment campaign to the local CALD community including: a video and presentations; translation of resources; capacity building of volunteer involving organisations to support recruitment of a diverse volunteer workforce; and one on one consultation with members of the CALD community to support volunteer engagement through COVID.

Boroondara Volunteer Resource Centre (BVRC) and Eastern Volunteers (EV)

BVRC and EV will work collaboratively to develop a dedicated online learning hub with three free online modules to support prospective volunteers in: preparing to volunteer, managing mental health and wellbeing through COVID, and COVID safe volunteering. An additional four tailored online learning modules will also be developed for local VIOs to support them in volunteer engagement of CALD communities and people with disability.

CISVic

CISVic will work with their local communities to identify VIOs who adapted well through COVID to continue engaging and utilising their volunteer base and why. With support from council, these learnings along with a guide for implementation will be shared with other VIOs. Volunteer working groups (with representation from CALD communities, people with disability, young people, and council) will also be established to co-design a targeted recruitment pathway for COVID safe volunteering.

Mornington Peninsula Shire

Mornington Peninsula Shire will develop and implement a marketing and communication plan to connect members of the community with local community organisations seeking to recruit volunteers through COVID. This will include the development and dissemination of messaging throughout the community to provide pathways to existing services and resources including the newly established weVolunteer program. Information sessions will also be provided to community organisations to support them in recruiting volunteers and implementing COVID safe practices.