Better Together
Celebrating First Nations Community Giving
When: Tuesday 17 May 2022 9:00 AM – 11:30 AM
Where: Koorie Heritage Trust – Yarra Building, Federation Square
National Volunteer Week (NVW) is the annual celebration to acknowledge the generous contribution of our nation's volunteers. From 16–22 May 2022, thousands of events were held across the country to say thank you to the 6 million Australians who volunteer their time.
This year our National Volunteer Week celebrations were held in honour of First Nations Community Giving and the launch of our Reconciliation Action Plan (RAP). Our NVW event commenced with a moving Welcome to Country by Wurundjeri elder, Uncle Tony Garvey. Sheena Watt (MP for Northern Metropolitan), and Nicole Findlay (CEO of Reconciliation Victoria) then opened a wonderful discussion on the many ways community members contribute and the importance of reconciliation in our communities and workplaces.
Our panel discussion with Garry Sattell (Aboriginal Community Broker) and Ricki Spencer (First Nations, Trans and Disability advocate) provided valuable insight into some of the key issues experienced by First Nations communities when giving their time. This included the high expectations placed on community Elders and the need for organisations to take an intersectional perspective when considering accessibility and inclusion.
Following the launch of our Reflect RAP, our RAP artist Chloe Jones (Dungala Creations) talked about the inspiration behind her artwork and the links to her Country and kin.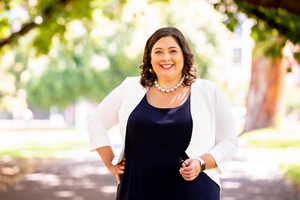 Sheena Watt
Member of Parliament (MP) for Northern Metropolitan
Sheena Watt is a member of the Victorian Parliament, representing the Northern Metropolitan Region in the Legislative Council. She is the first Aboriginal Australian woman to represent the Australian Labor Party in the Parliament of Victoria.
Prior to becoming a member of Parliament, Sheena was an Executive Manager at AFL SportsReady and on the Board of Directors for some of the most important community organisations in Victoria.
Sheena has extensive experience in Aboriginal Affairs, health and employment and has a strong commitment to advocate for those who face poverty, discrimination, or disadvantage. She is committed to breaking down structural inequality and supporting healthy and connected communities.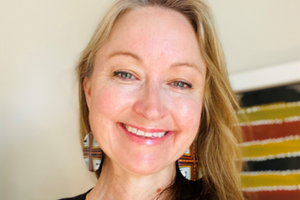 Nicole Findlay
Chief Executive Officer, Reconciliation Victoria
Advocate, ally, accomplice, friend, listener, learner, mentor and business partner working alongside Aboriginal and Torres Strait Islander Peoples for the best part of 20 years.
Nicole has a long history of building relationships and partnership projects with First Peoples in Victoria. She's worked in the Aboriginal employment sector since 2002. Co-founded an Aboriginal employment social enterprise in 2017. She writes and supports Reconciliation Action Plans (RAPs) across the state and has extensive connections working with Victorian local governments, education and community service stakeholders.
Much of Nicole's work history has involved working in consultation and partnership with Traditional Owners and many First Nations peoples and communities to develop strategic partnership projects and services to close disparity gaps for and with Aboriginal and Torres Strait Islander Peoples.
As a leader with a strong lens in two worlds, Nicole understands reconciliation is about taking time to acknowledge the past, to build mutually respectful relationships, and to be honest and open in how we work together. How we share knowledge, care for each other, community and country.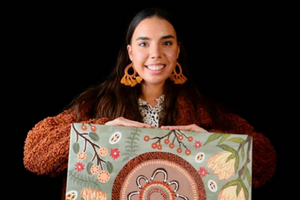 Chloe Jones
Volunteering Victoria's RAP Artist, Dungala Creations
My name is Chloe Jones, I am a proud Yorta Yorta woman born and raised on Yorta Yorta Country around the Mooroopna, Shepparton and Echuca region. I run a small business, Dungala Creations. Dungala stands for Murray River or running water in my tribal language, Yorta Yorta. My business is a platform to create and teach contemporary Indigenous art on Yorta Yorta country. My works are inspired by the land and waterways of my home. You'll notice throughout my works a lot of them incorporate water elements. This is because the rivers and waterways play an important part of my culture as they are considered our healers. My people are known as the river people. My tribal totem is the river turtle, the long neck turtle. I mostly like to use a lot of my tribe's traditional colors such as greens and browns.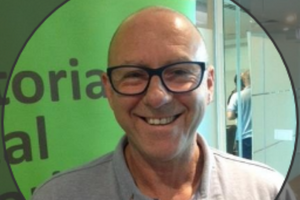 Garry Sattell
Aboriginal Community Development Broker
Garry is a proud Ngatjumay/Noongar man with mixed European ancestry. Born of an Aboriginal Father and non-Aboriginal Mother, he has walked and lived in both worlds, and has a world view that is not uncommon to many mixed heritage- First Nations people.
Garry takes great pride in being born into the oldest continuing culture in the world, while at the same time having ancestors who colonised this country and heralded the end of life and way of life for so many of his Aboriginal ancestors.
Garry can speak to some of the challenges faced by Aboriginal people since colonisation, based on his family experience and why culture is still very much at the core of the modern-day Aboriginal Australia. This includes why culture is very much at the core of 'volunteering' within the Aboriginal community.
His work experience includes 5 years as the Community Development Officer (LGBTIQ Community) with the WA AIDs Councils, 10 years as the Community Participation and Support Services Coordinator of Hepatitis Victoria, and 3 years as the State-wide Sexual Health and Blood Borne Virus Coordinator with the Victorian Aboriginal Community Controlled Health Service (VACCHO).
Currently and for the past 5 years, Garry has worked as an Aboriginal Community Development Broker for First Peoples – State Relations (Victorian Department of Premier and Cabinet).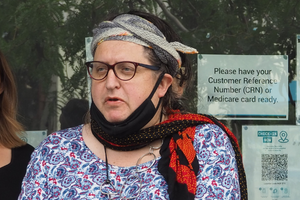 Ricki Spencer
Trans First Nations teacher & Queer Greens Convenor
Ricki Spencer (They/Her) M.Ed. is a qualified teacher and current student at the University of Melbourne completing their Master of Learning Intervention.  They are a public advocate for people living with a disability, transgender, and First Nations who are important identities lived.
Ricki is the elected Queer Greens Convenor, Housing & Homelessness WPG Convenor and Co Convenor for People with Disabilities Working Group and Co Convenor for Climate Change & Energy WPG for Victorian Greens.  Ricki has written in areas of trans health, education, and the values of recycling waste in urban areas. They are the current Convenor for Sociology of Media in Australia of the Australian Sociological Association, elected LGBTIQ Officer University of Melbourne, LGBTIQ Community Housing Reference Group Member for HAAG, Consumer Advisory Member for CIH Australia, Consumer Panel Member for Royal Melbourne Hospital and Peer Facilitator at Thorne Harbour Health. Ricki has over 20 years' experience working in welfare provision as a social worker and teacher.
Ricki identifies as a First Nations transgender nonbinary person with lived experiences of disability. They are passionate about local planning issues in relation to access to health and services for marginalized groups in Victoria. They have qualifications in social work, community planning and education. Ricki has also presented her finding to the Royal Commission for Disability Safety in trans and gender diverse reformation in health education and relationships for queer students with disabilities in Victorian Schools. Ricki has presented her story at Blak and Bright Writers Festival 2022. Ricki is also Social Media Officer for Indigenous Graduate Students Association.