Read our full position statement
Our Position Statement: First Nations People & Volunteering
Volunteering Victoria is committed to an ongoing process of reconciliation, acknowledging the historical and continued impact of colonisation and systemic racism on Aboriginal and Torres Strait Islander people. We are dedicated to building an organisation that prioritises the voices of Aboriginal and Torres Strait Islander people, and respects their histories and cultures.
We aim to be inclusive of Aboriginal and Torres Strait Islander people within our organisation and the volunteering community. Volunteering Victoria acknowledges that contributing to their communities is intrinsic to Aboriginal and Torres Strait Islander people and Aboriginal and Torres Strait Islander communities have strong ideas and practices of volunteering.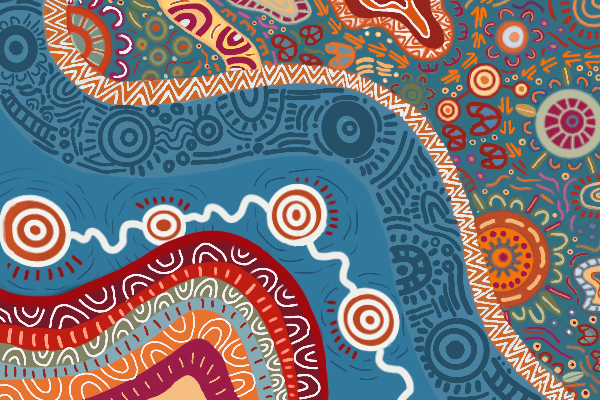 Read the artist's statement
Artist: Chloe Jones
Chloe Jones is a proud Yorta Yorta woman born and raised on Yorta Yorta Country around the Mooroopna, Shepparton and Echuca region. Chloe runs a small business, Dungala Creations. Dungala stands for Murray River or running water in Chloe's tribal language, Yorta Yorta. Chloe's business is a platform to create and teach contemporary Indigenous art on Yorta Yorta country.
Chloe's works are inspired by the land and waterways of her home. You'll notice throughout her works a lot of them incorporate water elements. This is because the rivers and waterways play an important part of Chloe's culture as they are considered as her healers. Her people are known as the river people. Her tribal totem is the river turtle, the long neck turtle. Chloe mostly likes to use a lot of her tribe's traditional colors such as greens and browns.