Karin Haevecker
My name is Karin Haevecker.  I have lived in Long Gully since 1990.  I met a friend in Derwent Drive, Long Gully – she was going to a playgroup at the Community House (now LGNC) and invited me along.  I took my children to Playgroup and from there got involved with some the other activities.  Carol was the Coordinator and I got to know her and Pam (one of the volunteers – who is still a volunteer here today!).   
Carol and Pam were really encouraging and invited me to get more and more involved.  Eventually I started volunteering doing admin in reception.
I've enjoyed meeting new people, chatting to them and helping with their enquiries. 
I've seen quite a few people come and go from Long Gully Neighbourhood Centre. We've only had 3 Coordinators in my time – Carol for 25 years, Helen for 7 years and now Kerry started last year. We've had different programs and various people involved in volunteering throughout that time.  It's been great to see a heap of new volunteers come along in the last year or so. 
I've been opening LGNC every day for quite a few years. Kerry says I'm "the early bird", but she appreciates being able to come in and have doors unlocked, lights on, kettle on and heating or cooling operating depending on the weather. 
When the fires swept through in 2009 it devastated our community – we were open as a relief centre and the raw emotions experienced at that time I'll never forget.  I was part of the Resident Action Group (through Neighbourhood Renewal), representing Long Gully Neighbourhood Centre. 
When my husband Paul passed away in July 2020 (in the midst of COVID) I didn't miss a beat in my volunteering – it was my mainstay to help me get through an awful time. My dad died on 13 May 2020 so I had my fair share of grief.  The LGNC community rallied around me and I found they helped me immensely. 
There are so many rewards to giving your time to volunteering. I know my life wouldn't be the same without the adventures I experience every day at LGNC.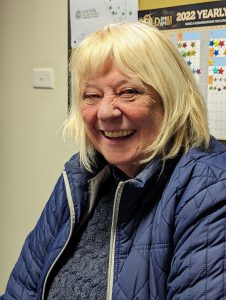 Linda Morton
I started volunteering in the late 70s in Melbourne with the scouting movement as a Cub leader. After moving to Maldon in 1987, we became part of the community by volunteering in various organisations, including the Maldon CFA for over twenty years, the Maldon Easter Fair and the Maldon Agricultural Show, where l was secretary for 10 years. 
I moved to Bendigo in 2012 after l retired from teaching. I joined the Discovery Centre as a volunteer before joining the Volunteer Resource Centre, helping others with volunteering. I have also tutored the Karen students at the Bendigo Senior Secondary School.  
During COVID, I was invited to come to Long Gully Neighbourhood Centre (LGNC) once a month to provide services as a Justic of the Peace.  l have been a JP for thirty years and have always liked helping people. 
As I got to know the people at LGNC, I started to build relationships and enjoyed getting out of the house.  I ended up joining LGNC as a volunteer and now do a couple of shifts most weeks in the reception area – I enjoy greeting people and assisting them with enquiries.
It is great to be involved in my local community and it is very rewarding.