The Compassionate Friends Victoria (TCFV) is a state-wide, mutual support and self-help organisation established in Victoria in 1978. TCFV provides accessible, inexpensive and ongoing bereavement peer support to families following the death of a child, sibling or grandchild at any age and from any cause. TCFV does not believe in waiting lists for peer support. 
TCFV has a specialised lived experience volunteer workforce, who are oriented, trained and supported in their roles by a small team of lived experience paid staff and volunteers who coordinate provision of the support services.  
In 2021-22, approximately 150 TCFV volunteers across the state provided 27,597 hours of volunteer service in peer support, facilitation of 34 support groups, 24/7, 365 days grief telephone support, community education, administration and governance. TCFV also arranges Time Out Retreat Accommodation for bereaved members. 
Volunteering is integral to our motto – GRIEVE HEAL GROW. 
Through volunteering, bereaved members reach out to support each other, reduce the isolation of grief, form friendships, restore self-confidence and develop skills. Volunteers often speak of their volunteering as honouring their loved ones who have died.  
Jon and Sue Stebbins
Their 30+ year volunteer contribution to bereaved Victorians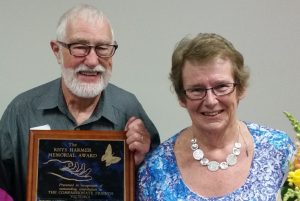 Jon and Sue Stebbins' story is one of remarkable service to volunteering and support for bereaved families in Victoria. It is a story that began in tragedy and continues to this day in compassion and hope. Jon and Sue's son Matthew, 18, took his own life in 1987. They found support at The Compassionate Friends Victoria (TCFV). Once they could 'sit beside their own grief', they brought their experience, knowledge and skill to supporting others experiencing traumatic loss, including volunteering to support families at TCFV.  
Because TCFV volunteers are bereaved themselves, there is an added level of vulnerability to consider when thinking about volunteer training. Jon and Sue developed a program for training and ongoing support for bereavement support-group leaders. Since their involvement at TCFV, hundreds of bereaved volunteer parents, siblings and grandparents have been trained to provide safe, compassionate support group and telephone grief support to thousands of bereaved people in Victoria.
Volunteering with Lived Experience
Jon and Sue are strongly committed to the helping and healing potential of lived experience peer-support. This form of volunteering is special, as it involves people with lived experience sharing and caring for each other.  
From initially receiving group support, Sue became the leader of TCFV's Bereaved by Suicide Support Group for the next 17 years, with support from Jon, and later support from volunteers they had trained. Of this experience Sue says: 
"I was humbled, privileged and very moved to be part of such courageous, broken people slowly finding meaning in their lives again. The support within the group of parents and siblings was inspirational and lifelong friendships were formed."  
At TCFV, many parents, siblings and grandparents currently receiving support will form the next generation of peer volunteers, as they rebuild their lives. They will draw on their experiential knowledge to give back, to honour their loved ones, and gain something positive from their experience of loss.  
This ongoing program is a legacy to Jon and Sue's passionate commitment to ensuring that TCFV volunteers offer safe, secure, and well-informed support. It also reflects an immeasurable contribution to volunteering and to bereaved people in Victoria.
For more information about TCFV, please contact:
Dorothy Ford – Services Development Manager, The Compassionate Friends Victoria
Mobile – 0447788070 
Bereaved sister of Russell and his grandchild Wally