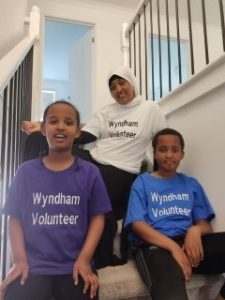 Rahima Ahmed is the founder of the Wyndham Bright Young Leaders, a community education program for children aged 8-12 years that promotes leadership and social skills. Driven by her motivation to support her children in settling into school and improving their confidence, Rahima set up the program in 2019 and despite the COVID-19 pandemic has been able to run several programs both in person and online. The 6-week program includes the topics of Making New Friends, Sharing Culture, Respect, Confidence, Responsibility and Setting Goals. The program is led by Rahima with support from other community members who volunteer their time. 
Rahima also facilitates the Oromo Women's Networking Group in her local community, providing an opportunity for women to come together once per month to share information, discuss local issues, talk about volunteer opportunities, and plan events and programs to benefit their families.  
The volunteer-led group has organised numerous family events and community activities, including annual primary school graduation celebrations. The group also identified a gap in after-hours learning support for their children and successfully advocated for a Homework Support Club at their local Neighbourhood House. 
Rahima says:
"It's important to me to bring my community together and create opportunities for them to be involved, learn about different cultures and learn new skills. Many people in the community don't understand about the benefits of volunteering, but by setting up these groups we can show them. It's about imagining a future for our children and sharing our culture with the community".